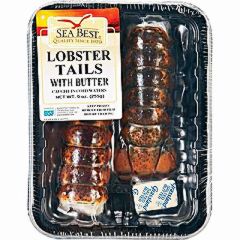 82740 - LOBSTER TAILS 4/5OZ w/BUTTER
Two Lobster tails per pack.
$228.40
Case of Raw Lobster Tails with two 4.5oz tails per pack, 12 packs in a case.  Comes with butter.  Can be baked, broiled, boiled, steamed or deep fried.  Additional preparation instructions on packaging.  Caught in cold waters of North America.  Processed in Canada.
Brand:

SEABST

Product Number:

82740

Unit:

CS

Pack/Size:

12/2PK

Manufacturer Number:

7700593

Stocked in Chambersburg:

Yes

Stocked in Martinsburg:

Yes
Contact Us