History of Johnnies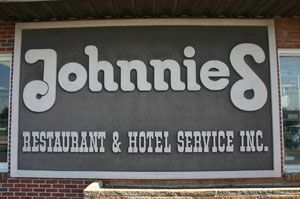 Founded in 1955 by John B Stenger, a former restaurateur, Johnnies has grown to its current size of over $12million annually. Johnnies roots began in McConnellsburg, Pa and moved to Chambersburg in 1963. Mr Stenger moved again in 1970 to our current 50,000 square foot facility.
Johnnies was primarily a dry food and disposable goods distributor until 1990 when a 6,000 square foot refrigerator and freezer unit was built. It was at this time that John Fred Stenger bought the business from his father and continued the growth of the company. The early 90's saw growth in food service route sales and the development of an equipment department including sales, design, and  installation. The initiative was also underway to develop a 'retail' Cash 'n Carry showroom where anyone would be able to purchase the same products that a restaurant could.  In September 2010, a second Cash 'n Carry was opened in Martinsburg, WV called Johnnies Express.  The store features the bulk of Johnnies most popular items for quick and easy pickup.
Johnnies future calls for expanded Cash 'n Carry with continued growth in equipment. We have also added more Food service route sales consultants to keep all three centers moving forward.